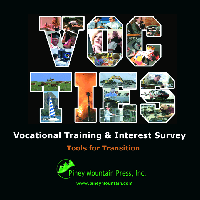 This reading free, multimedia career transition program identifies interests, training options and IEP planning objectives for 8th and 9th grade special students.
The assessment may be administered to groups of students via a DVD or web video and scored using our patented batch scoring program. You may also administer the program on an individual basis via our multimedia CD presentation. Reports may be generated to include with your IEP as shown below in the 'Sample Reports' option.
To order products, please
browse our catalog
or
contact us
.